Day Skipper and Yachtmaster Online
For a number of reasons, some sailors choose e-learning.
SailNorth offers both Dayskipper and Yachtmaster courses Online, for yourself or as a GIFT VOUCHER for a friend.
+ Online courses are presented through a number of subject modules and supported with hundreds of images, animations, videos, quizzes, exercises etc. to develop and confirm your understanding of the subjects.

+ Instructor support is available online 7 days a week.

+ Support material includes - Training Charts - Training Almanac - Course Handbook.

+ There are two compulsory assessments (three for Yachtmaster) for which you may have unlimited attempts, and you have 6 month access to complete the program.
+ The output from the course is the RYA Course Completion Certificate plus of course a comprehensive understanding of navigation at sea.
These are skills not easily gained when onboard and focussed on boat handling skills.

click here or the image below to explore the Online Course sign-up page or use contact above if for a Gift Voucher.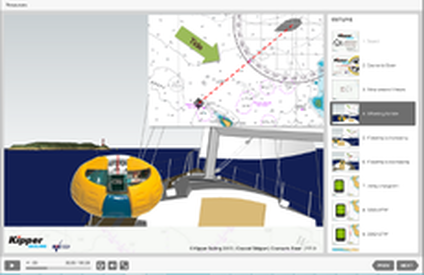 At present we have a reduced price of £245 for the courses (Combine two Courses at £390).
Click the image above to explore the sign-up page, or maybe click 'contact' above, or phone below, for a gift voucher and to further discuss your options.

e.g. Dayskipper Online comprises thirteen modules and 15 exercises.

-Charts and publication
-Tidal Awareness
-Tidal Heights, Tidal Streams
-Compass and Position Fixing
-Dead Reckoning and Estimated Position
-Course to steer
-Electronic Navigation
-Buoyage
-Pilotage
-Passage Planning
-Passage Making
-Safety, The environment
-Meteorology
-Collision Regulations.

Lesson modules and the associated exercises require 2 – 5 hours to complete over the autumn and winter months as you plan your trips for next year.